The Author
Born Ernest Gordon, 15 April, 1933 at Wallsend on Tyne, the eastern end of the Roman wall, into a railway family who, soon after, moved to the north of Northumberland then eventually settled in Ulgham Grange (pronounced Uffam), about sixteen miles south of the ancient and historic county town of Alnwick.
From about the age of six I became known as Sonny simply because my father was also called Ernie and two of us always came running when my mother Jenny called!! Even to-day, some 75 plus, years on, there are those who still call me by my 'nick name'.
It was at Ulgham that my love of the wild Red Squirrel, and nature in general, was first formed and my way of life in those distant days was more akin to that of 'Huckleberry Finn' where every spare moment of my life was spent in the woods, fields and along the banks of the small River Lyne.
Those early years in the late 1930s, and through the'40s, were idyllic, blissful and spent in total freedom, freedom to roam and explore at will and to talk to the wild creatures of the woodland. My education in the field of nature was further enhanced when, in 1946, I was selected to attend the magical, outward bound, boarding school at Brownrigg, Bellingham situated in the North Tyne valley, in the wonderful wild and beautiful setting of mid west Northumberland where, until April 1948, I was introduced to more wildlife specimens such as snakes and salmon, to name but two.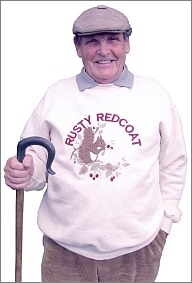 Following my carefree school days I served a six year apprenticeship as a Stonemason/Bricklayer after which I was enlisted in the armed forces, for the then compulsory National Service, whereupon I served as an infantryman during the Malay Campaign in 1954-5-6. Apart from the dangers and hazards of jungle warfare, the experience of living in the tropical rain forests of Malay, sometimes for weeks on end, was just about the most exciting, rewarding and interesting period of my life. I would dearly love to return there for a nostalgic visit one day.
My long career in Building and Civil Engineering came to an end when, in 1993, I took early retirement on health grounds when the dreaded Crohns Disease very nearly wrecked my life. I am pleased to report that I have now managed to get to grips with this terrible affliction which, ironically, is the main reason why I decided to return to my juvenile 'Huckleberry Finn' lifestyle of all those years ago but probably more in keeping to-day with 'Doctor Doolittle' !!! here in the woodlands around Alnwick.
This is what the Red Squirrel has done for me during the last twenty years and my sole mission in life now is to fight their corner to help stave off the terrible Parapox disease, which is transmitted to them via the dreaded Grey Squirrel, and threatens the very existence of 'Rusty Redcoats' everywhere unless we all awaken to their plight and DO SOMETHING ABOUT IT.