The Adventures of Rusty Redcoat - Volume 1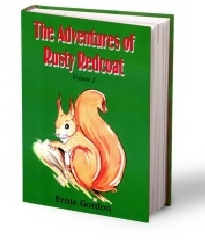 This exciting tale really begins in the late spring of the year 2000, the new millennium, when Rusty Redcoat was born and who, along with his new brother Len and two lovely sisters Milli and Yum, were among the very first of the age old Redcoat family to be born into the 21st Century. These very apt names were chosen especially by their parents, 'Duke and Duchess Redcoat', who else! to commemorate the new Milli, Len, Yum! with Rusty being christened differently as he was last of the 'kittens' to be born, and also, because he had the reddest coat of all.
Rusty Redcoat, as a baby squirrel, is rescued from certain death by Sonny, the gamekeeper's son, and taken into 'care'. The book is about the adventures of this young red squirrel in his attempts to escape and return to his family in the woodland around Alnwick (pronounced 'Annik').
A Review by Elizabeth Mac, Aged 10
Dear Reader,
I am very proud to have been asked to review this book. I've never been a reviewer before so it is a pleasure for me to review this story of Rusty Redcoat, the young red squirrel, his woodland family and friends and all the adventures they have.
Some of the antics they get up to made me laugh; other times I felt the fear of the creatures so much that I could actually have been there myself.
Reading through, chapter by chapter, I learned that a red squirrel has to avoid many dangers, such as the fox and the weasel, as well as birds of prey. I also learned that red squirrels are being pushed out of their natural habitat by another type of squirrel, which is grey. Not only are grey squirrels bigger and greedier than the reds, but the greys also carry the terrible virus parapox, which is deadly to all red squirrels...
...to continue reading this review, please order your copy of The Adventures of Rusty Redcoat!